June 30th: Mar Vista Stables is REOPEN but Olympic Way Retreat Center project continues.
The good news is that
Mar Vista Stables
has reopened (with a new COVID-19 policy in place and social distancing practices). Come on down for a trail ride! Summer Camp is ON! Stalls available for boarders & leasers and barn improvements (new tack room, upgraded stalls) continue.
But the bad news is… we need to keep up the pressure against the destruction of open space next to the barn.
Sand Hill Properties is continuing the CEQA process in support of their 29,000 square foot Olympic Way Retreat which would be built on the vacant land to the south of Mar Vista Stables.
They also had with a recent meeting with the Airport's Land Use Committee on 5-28 to get their approval of the Daly City Local Coastal Plan Amendment they need to get DCP approval of the project.
Our latest information from Daly City Planning:
This project requires reviews by the Airport Land Use Committee due to the required LCP Amendment and its location within an Airport Influence Area. The Committee recommended approval of the project the Airport's C/CAG Board. The C/CAG Board will review the project at a future meeting date (date TBD).
From a DCP perspective, the project is "incomplete" to date while Sand Hill addresses comments from various Daly City government departments, agencies, and the CEQA consultant. The Initial Study is also still being prepared. Public hearings for this project will not be determined until it's deemed complete.
This area is heavily used by hikers, dog walkers, fishermen, photographers, surfers, hang gliders, parasailers and many parking at the southern Thornton Beach Vista overlook and walking down the sole beach access trail to the Thornton State Beach in addition to being used by equestrians. Our next line of action will be marshaling the support of this community (many of which discovered Thornton Beach Bluff while Fort Funston was closed during the SIP due to COVID-19) in support of opposition to the Olympic Way Retreat Center project.


October 11: Time to rally AGAIN!
Sand Hill Properties has submitted a formal application to Daly City Planning for an "Olympic Way Retreat Center" to be built on the vacant lots to the south of Mar Vista Stables. This area is heavily used by hikers, dog walkers, fishermen, photographers, surfers as well as by trail riders and equestrians, many parking at the southern Thornton Beach Vista overlook and walking down the sole beach access trail to the Thornton State Beach. This area is  also used by the Fire Department, Park Rangers, Police Department to access the bluff and beach.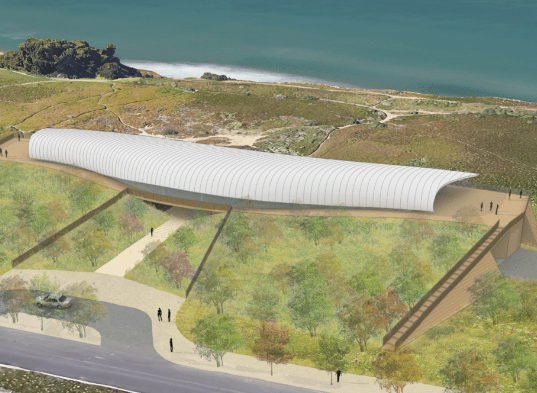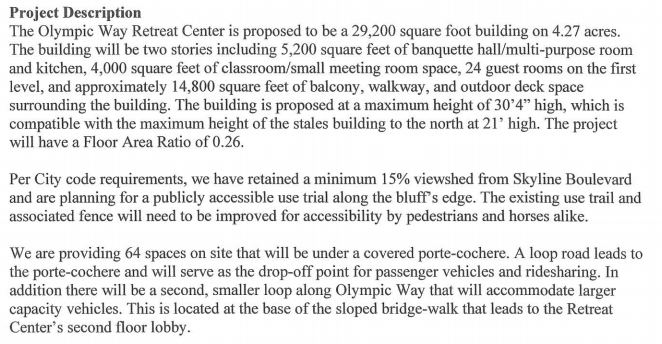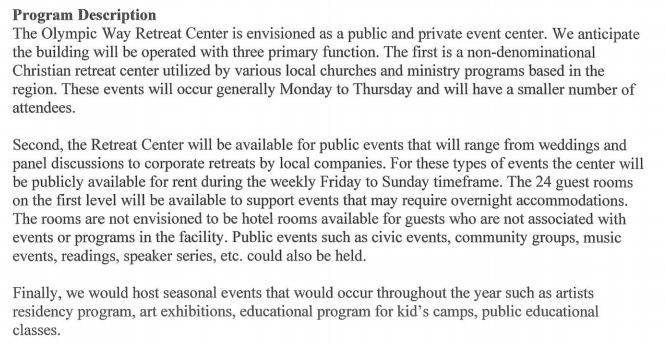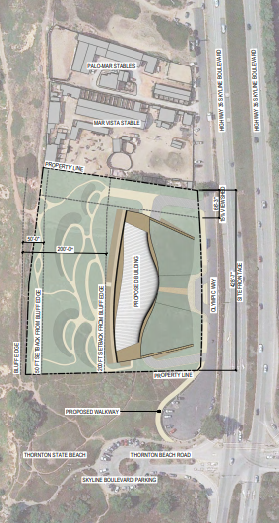 This application includes a request for rezoning and a CEQA/EIR review (requesting a mitigated negative declaration e.g. "no environmental impact") and an amendment to the Daly City Local Coastal Plan. This project would require a new use permit and Coastal Development Permit. The CDP can be appealed to the Coastal Commission.
The two geological reports cite the seismic instability of the Thornton Beach Bluff land. (ENGEO, February 2019 and Cotton Shires, April 2019)
Daly City Planning has responded to the pre-application request from Sand Hill with this letter including:
The project will require preparation of an Initial Study (IS), which will then determine the need for either a Mitigated Negative Declaration (MND) or Environmental Impact Report (EIR). Upon submittal of the UP/CDP application, the City staff will request a third-party estimate for the IS and request a check in the amount of the estimate plus a 25 percent administrative charge. If an EIR is required, additional funds and overhead charge will be required. The California Coastal Commission and the California Department of Transportation (Caltrans) may be responsible agencies in relation to this project under CEQA. Although we will begin early consultation with the Coastal staff, it is highly recommended that you consult with these two agencies prior to submitting formal entitlement applications to learn what, if any, separate process you might need to go through with their agencies for final approvals.
Our next steps will be to meet with DCP and the Coastal Commission again to understand the process, next steps re public hearings and their perspectives. Stay tuned.
In the meantime, please sign our petition if you haven't already.
July 11: Did you catch this insightful article in the Los Angeles Times about the effects of climate change on the California Coast? A great read!
June 28: It's official! The landowner's and developer's deal to purchase the land at the Mar Vista Stables did not go through. We are hopeful that the landowners will ultimately take us up on our original proposal to buy the land so that we can protect it and our beloved barns forever. 
We want to thank everyone for the tremendous outpouring of support for our efforts. Without your signatures on the petition, ongoing offers to get involved and commitment to saving the last public access to horseback riding in the Bay Area, we might be facing a very different situation a year an a half later. Please accept our grateful appreciation.
Life at the barn is in full swing. Zach has purchased about 10 new horses and is making upgrades on the property. Summer camp, riding lessons and trail rides are thriving and for you riders, even the cut is beautifully groomed thanks to a recent tractor run. Do stop by for a ride, trailer up and join us to celebrate!
We will keep this website and our e-letter going because… we will jump back into gear the minute another developer shows up. Onward!
May 8: Earlier in April we met with Daly City Planning: As of our meeting date, our petition was at 1,356 signatures on Change.org. To date, Daly City Planning has not had a formal application from either developer for a CEQA Review or LCP Amendment (local coastal plan).  The 2 amendments the developers want to the Local Coastal Plan are alleviation of the 10% maximum building allowable on the land and the height restrictions (20 feet or one story, whichever is less) currently permitted.
Planning staff confirmed that a categorical exemption to CEQA (environmental) review is not possible for these parcels. They also noted that the parcels might require rezoning due to the parking requirements in existing codes vs what the developers have planned. Rezoning also requires Coastal Commission review.
For our plan, they said we would need to present any renovations to the Building Dept to see if demo permits and building permits were required. Ditto for a possible Coastal Development Permit (which also requires land owner consent of course) and would need to be reviewed with the Coastal Commission. Maintenance/refurbishment of existing structures is typically pursued without the need for building/demo permits.
We obtained the Torgon Group documents and are now reviewing these. 
A public meeting for our supporters is to be scheduled most likely in June. Date to be announced shortly. 
March 26: Members of our Organizing Committee met with Coastal Commission staff on March 25th to review the requirements the developers would need to satisfy from a CC perspective to proceed with their projects (CEQA/EIR, amendment to LCP, CDP permit etc.). We also clarified the current extent of recreation taking place at Mar Vista Stables and provided data supporting this to the Commission. We further relayed our specific concerns with the proposed development proposals vis a vis the Coastal Act.
Staff confirmed that they would typically not review a project until the full application for a development is submitted, however, as in the Torgon Group's case, this review could be requested earlier. The Coastal Commission has some concerns that Daly City is moving rapidly to try to simultaneously request to amend the LCP and issue a Coastal Development Permit. This cannot occur, however, without the CEQA recommendation and we will be staying on top of Daly City Planning regarding the status of that environmental review. Meanwhile, the developer, Harbinger, awaits their geological study.
Our petition to the Coastal Commission was also delivered to staff. We have 835 signatures in 3 weeks.
February 26: The two developers, Harbinger Development and Sand Hill Properties, shared their proposals with Daly City Planning staff and the Coastal Commission who then reviewed the process for project review. Coastal staff recommended that the applicants conduct community outreach early in the process. They did not take a position on the proposals. They confirmed that the developers' proposals both require an amendment to the current Daly City Local Coastal Plan (LCP). Here are the steps the developers will need to take if they decide to move forward: 
STEP 1: CEQA Environmental Impact Review
The developers first need to request from Daly City an environmental review according to the California Environmental Quality Act (CEQA) (as well as a request to amend the current LCP). As of last week, no requests have yet been received by Daly City. We will continue to stay in touch with Daly City, the Coastal Commission and the developers through this stage.
The applicants will then need to conduct various technical studies such as a biological assessment, geotechnical study, and traffic and parking studies to determine the feasibility of the proposals on the subject sites and to guide site planning and design. In addition, Coastal staff conveyed that this will help them understand the constraints on the sites from a Local Coastal Plan (LCP) perspective. The CEQA environmental analysis on the Mar Vista/Palomar sites as well as Sand Hill Properties project on the vacant lot (for a conference center) will be processed concurrently.
Daly City Planning and their CEQA consultant will evaluate the projects from a CEQA standpoint and issue a recommendation in their CEQA report of either a Mitigated Negative Declaration (no environmental impacts) or an Environmental Impact Report. If there are impacts, the developments would have to address/mitigate these impacts in their proposals.
STEP 2: Project Adherence to Daly City Local Coastal Plan
The projects both include a building height and lot coverage in excess of the maximum (10%) permitted under the Daly City General Plan's Coastal Element (i.e. Daly City LCP). Coastal staff stated a Local Coastal Program (LCP) Amendment would be required to increase the maximum height and lot coverage permitted on the properties.
Daly City staff indicated they would present both a proposed LCP Amendment and environmental document to the Daly City Planning Commission for a recommendation and subsequently to the City Council for approval of the LCP Amendment and certification of the CEQA environmental document at the same time.
 At this point in the process, a public hearing would be required. If necessary, we plan to challenge recommendations to proceed with the projects.
STEP 3: Zoning and Coastal Development Permit 
 If a zoning change is requested for either or both of the properties, this would require certification by the Coastal Commission.
If the LCP Amendment is certified by the Coastal Commission, the applicants would then apply for a Coastal Development Permit (CDP), Design Review Permit (DR), and Zone Change (if a Planned Development (PD) is proposed) through the City for each project.
 If a zoning change is requested for either or both of the properties, this would require certification by the Coastal Commission.
And if a Coastal Development Permit is issued by Daly City, this can be appealed to the Coastal Commission.
The Coastal Commission and Daly City Planning are aware of our concerns with these two projects and will continue to work with us.